Why Choose Total Gate?
Total Gate's complete gate service means that every phase of building your gate – from brainstorming your ideas to the finishing touches – is done by one of our own experienced gate specialists. Dealing only with us means you get the stunning gate you deserve, without exception and without hassle.
Unlimited Design Options
Design any gate project imaginable with our state-of-the art technology, wide range of materials and experienced crew. Architects, designers and engineers can work seamlessly with our team.
Built For You In-house
Have your gate custom made in our fabrication shop for virtually any design you wish or choose from a wide selection of templates.
Dedicated Experts
Excavation, fabrication, installation and automation are all done by a Total Gate specialist with years of gate experience. Your project is completely integrated, runs without interruptions and you know who you're dealing with.
Superior materials
You can't build the best gate on the market by cutting corners on materials. Total Gate imports the best from the United States and Italy.
Exceptional Craftsmanship
There's no detail too small when we plan your gate system. Its beauty and functionality is our highest priority.
Unbeatable Warranty
It's this simple: we have the best warranty in the gate service business. Guaranteed warranty for as long as you own your property.
It's the little things that make a difference.
A beautiful gate is the right place to start, but Total Gate doesn't stop there. We have over thirty years of combined experience in our partnership and we use that to design your gate from 60" below ground up.
Our comprehensive understanding of what you want from your entryway informs our planning and design. That way, instead of a generic gate that may or may not be right for you, we bring you a gate and a system that is exactly what works for your access control needs.
We understand foundations and what it will take for you to never experience frost heave and gate failure.
The neighbourhood and the architecture of your property is important in order to offer diverse option for design.
Our shop is entirely comfortable working in steel, aluminum, wood, and many other materials for fabrication.
Knowing the access control equipment available to our industry means that we can offer the right choice for your security requirements.
Our systems can integrate into home automation and security systems seamlessly.
We offer the longest warranty available on our equipment and fabricated products.
Total Gate is the most established gates-only company in the GTA and our experience is your peace of mind.
Incredible Features and Options: The Total Gate Difference
Total Gate systems are full of intuitive and useful features and options. We listen to our clients and integrate their feature requests on a regular basis. You could say that our gates are not only built by us, but also by our users.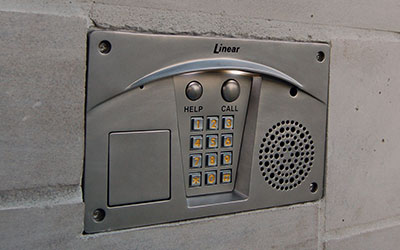 Accessibility Options
Total Gate has a wide range of gate access control options including remote access, telephone entry, sensor loops and infrared safety beams.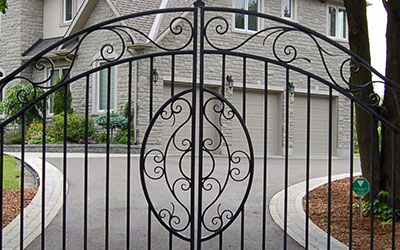 Custom Scrollwork
Personalize your gate with our breathtaking scrollwork designs, created by Total Gate's in-house blacksmith.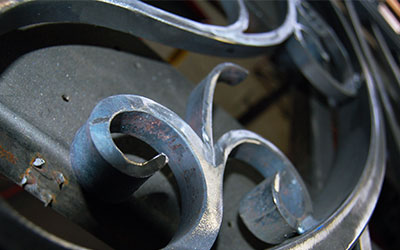 Hot-dip Galvanizing
Total Gate protects your gate to make it look like new for years by using polyurethane paint and hot-dip galvanizing.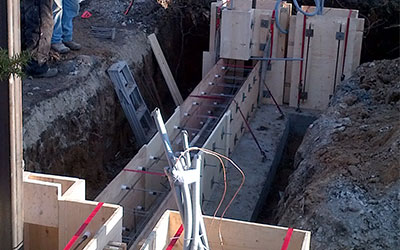 Continuous Foundations
Unlike most gate companies, we build our gates using continuous foundations which prevent frost from misaligning your gate. Crucial for surviving Canadian winters.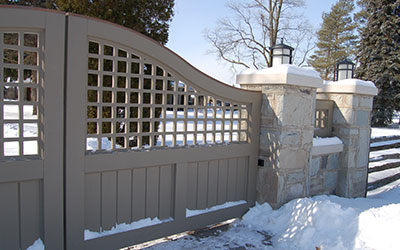 Variety of Materials
Build your gate with a variety of materials such as aluminum, ferrous metals, wood and glass.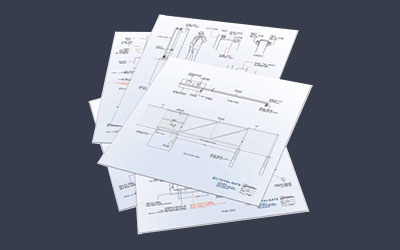 Flexible Design
Total Gate is always working with architects, designers and engineers. Send us your ideas in AutoCAD. Or the back of a napkin.
YOU IMAGINE IT, WE CREATE IT
Whether it's an existing property or a new build, we'll collaborate with you to create whatever concept you can imagine. No challenge is too big.